Documentary on country's evolution wins praise
By Xing Wen | China Daily | Updated: 2021-01-07 09:48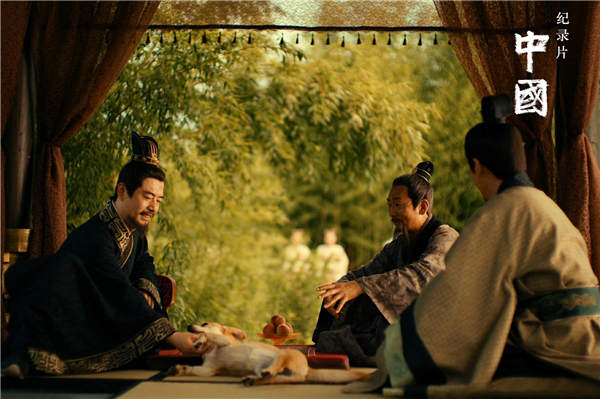 A documentary that reveals the evolution of philosophy, governance and culture through the ages in China has won public praise with its dramatic reconstruction of historical stories, spectacular photography, sensuous musical scores and an emotional, epideictic voice-over.
The 36-episode, three-season documentary, China, was rated 8.6 points out of 10 on the review site Douban. Its first season was aired on Hunan Satellite TV and the livestreaming platform Mango TV in December. It chronicles the dynasties from the Spring and Autumn Period (770-476 BC), which saw the rise of different schools of thought, to the Tang Dynasty (618-907) heyday.
"Babies grow into adults with different personalities and interests because of their varied experiences and upbringing. Then, how did the country develop into today's China over the long course of history? That's what we want to find out in the documentary," says director Li Dongkun.
The first 50-minute episode mainly tells two stories-the ancient philosopher Confucius visiting Laozi, the founder of Taoism, and traveling through various states to spread his ideas, which, in the director's view, can provide a general picture of the origin of the philosophies that have a far-reaching influence on the today's Chinese society.
"All the stories we selected to present in the documentary can contribute to making clear the logic of how China was developing into a large, inclusive, united multiethnic country today," Li says.
Zhang Huali, president of Hunan Satellite TV station, says China is experiencing an extensive and profound social transformation.
"Facing the growing uncertainties and complexities at this moment, it's of great importance for Chinese people to trace the history and sort out our traditional cultural resources," he says, adding that this is the reason for producing the documentary.
What's special about the documentary is its dreamlike re-creation of old scenes, where only essential details are presented, almost like an artist's sketch.
While the narrator tells the story, the characters go about their activities in a way that keeps the viewers' focus on what is important about the tale or the characters themselves.
The production team didn't set up any complete structure such as a house or a yard. Only such necessary props as desks, chairs and beds were prepared for the actors and actresses to act.
The director says this kind of reconstruction that blurs conversations and specific settings might help to minimize historical inaccuracies.