Georgia gives Democrats control of US Senate
By AI HEPING in New York | China Daily Global | Updated: 2021-01-07 12:42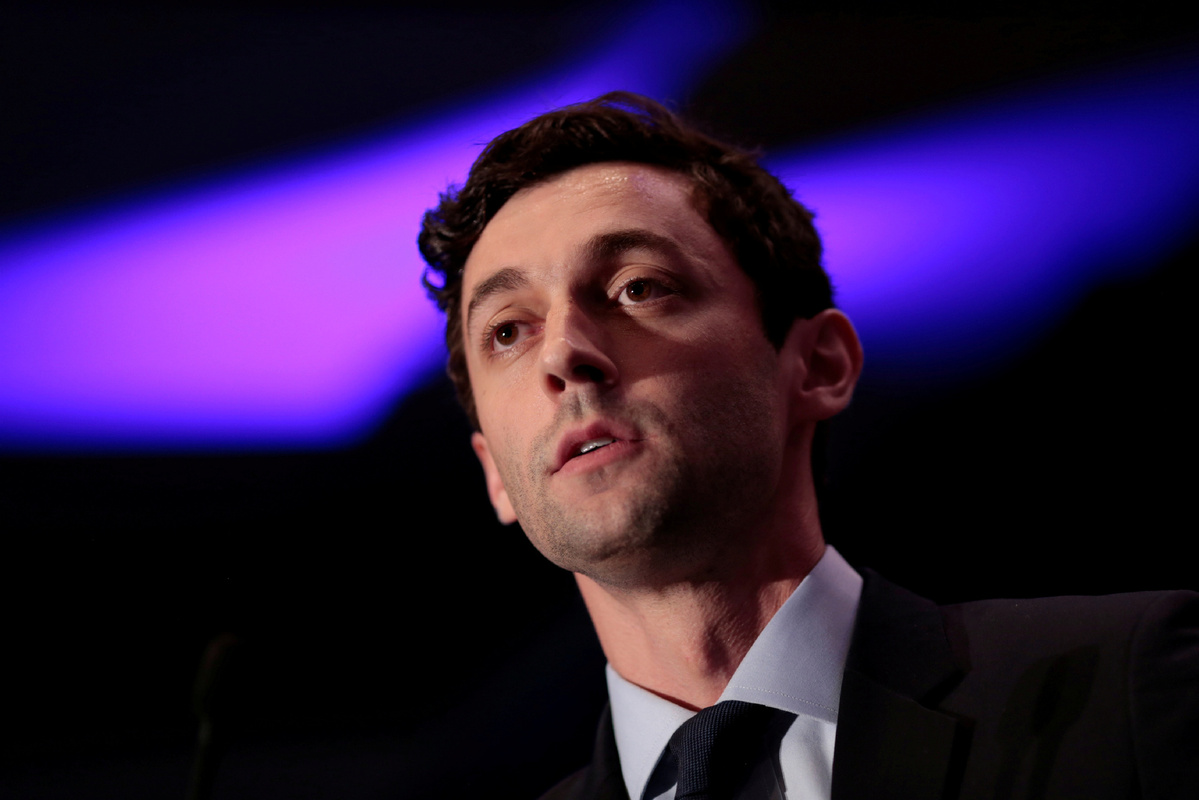 Democrat Jon Ossoff defeated Republican incumbent David Perdue in the Georgia runoff on Wednesday, giving Democrats control of the US Senate.
"It is with humility that I thank the people of Georgia for electing me to serve you in the United States Senate," Ossoff said after The Associated Press declared him the winner.
Ossoff's victory came after the win on Tuesday by the Rev Raphael Warnock over incumbent Senator Kelly Loeffler to become Georgia's first black senator.
Ossoff will be the youngest sitting US senator at age 33.
Warnock, the senior pastor of Ebenezer Baptist Church in Atlanta, and Ossoff, the head of a video-production company who has never held public office, are the first Democrats to win Senate seats in Georgia since 2000.
Ossoff defeated Perdue, who recently completed his first full term as senator. Perdue, whose Senate term expired earlier this week, hasn't conceded the race.
The Senate is now evenly divided between Democrats and Republicans, 50-50, but when Vice-President-elect Kamala Harris is sworn in, she will have the power to break ties for Democrats.
It will take several days for the runoffs to be officially certified, so Warnock and Ossoff won't take office immediately. Warnock's term is for two years; Ossoff has won a full six-year term in the Senate.
President-elect Joe Biden, who won the state by about 12,000 votes in the general election, campaigned for Ossoff and Warnock in an election eve rally in Atlanta.
Trump made an election eve appearance in northwest Georgia for the Republican incumbents. Earlier this week, an audiotape showed Trump appearing to pressure Georgia Secretary of State Brad Raffensperger on a private call, urging him to "find" enough votes to reverse his loss in Georgia. Raffensperger, a Republican, refused.
Media reports on Wednesday said that Biden plans to name federal judge Merrick Garland, whose Supreme Court nomination Republicans blocked in 2016, as US attorney general.
The victories in Georgia mean Biden will be able to fill the vacancy left by Garland on the US Court of Appeals for the District of Columbia with another Democrat.
Loeffler, who remains a senator until the results of Tuesday's election are finalized, returned to Washington on Wednesday morning to join a small group of senators planning to challenge Congress' vote to certify Biden's victory.