US Congress certifies Biden win in election
By ZHAO HUANXIN in Washington, CHEN YINGQUN in Beijing and AI HEPING in New York | China Daily | Updated: 2021-01-08 07:35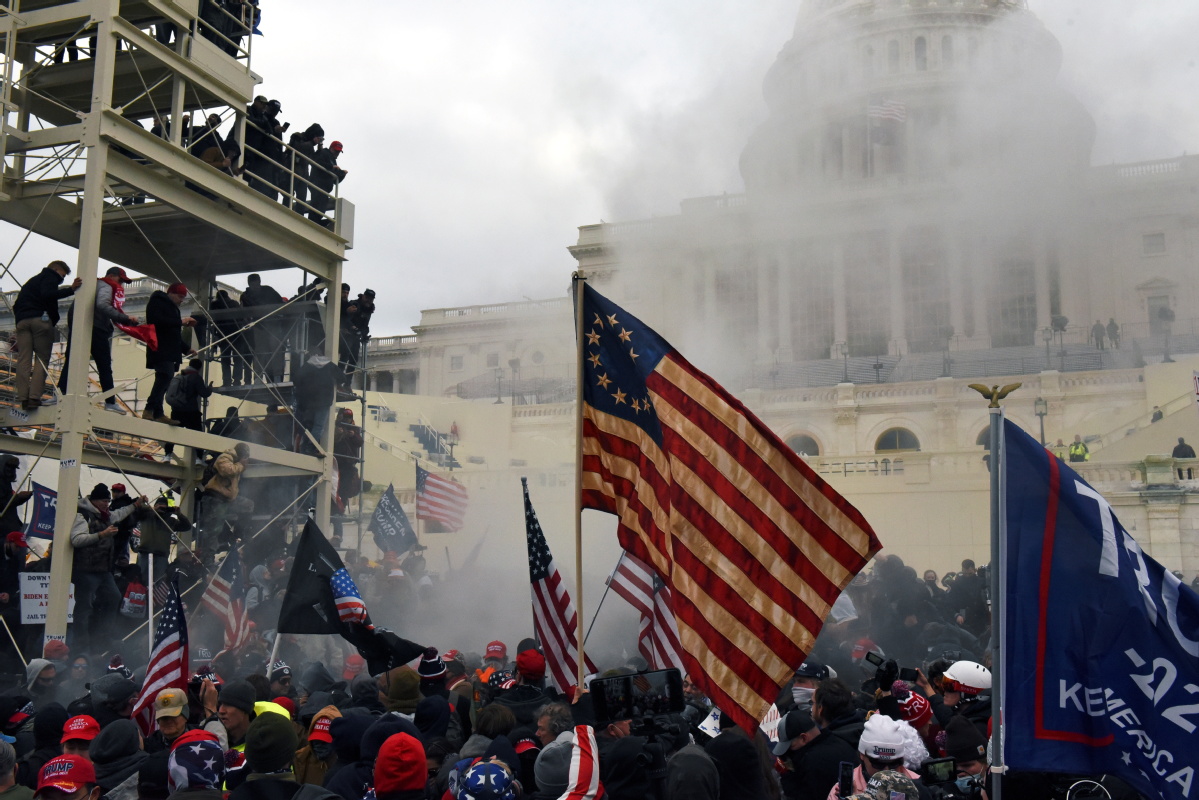 Trump supporters storm Capitol in bid to overturn results; four dead, at least 52 arrested
The US Congress certified Democrat Joe Biden as the next president on Thursday morning, hours after supporters of President Donald Trump stormed the US Capitol on Wednesday, resulting in four deaths.
Lawmakers in the Senate and House of Representatives certified the final Electoral College votes with Biden receiving 306 votes and Trump 232 votes, with debate stretching into the early hours of Thursday.
Trump made a statement on social media via White House spokesman Dan Scavino's account on Thursday after Congress certified Biden's victory, saying that he committed to "an orderly transition" of power.
"Even though I totally disagree with the outcome of the election, and the facts bear me out, nevertheless there will be an orderly transition on January 20th," he said.
Congress reconvened later on Wednesday night to continue the certification proceedings, which were interrupted as Trump supporters stormed the US Capitol, an event that has appalled world leaders and drew condemnation from former US presidents.
Police in the US Capitol responded with drawn guns and tear gas as hundreds of protesters broke down barricades and got into the building, halting a session of Congress tasked with certifying President-elect Joe Biden's Electoral College victory.
Four people died on the US Capitol grounds and at least 52 people had been arrested by Wednesday night, according to US media reports.
Washington DC Police Chief Robert Contee said the dead on Wednesday included a woman who was shot by the US Capitol Police, as well as three others who died in "medical emergencies".
Police said both law enforcement and Trump supporters deployed chemical irritants during the hours-long occupation of the Capitol building before it was cleared on Wednesday evening by law enforcement.
Washington DC Mayor Muriel Bowser declared a citywide curfew from 6 pm on Wednesday to 6 am on Thursday.
The Army activated the entire District of Columbia National Guard-1,100 troops-in response to a request from Bowser. The nearby states of Maryland and Virginia said they were sending additional National Guard troops and state police to help police struggling with the protesters.
Also on Wednesday, Democrat Jon Ossoff defeated Republican incumbent David Perdue in the Georgia runoff, giving Democrats control of the US Senate.
Ossoff's victory came after the win on Tuesday by Raphael Warnock over incumbent Senator Kelly Loeffler to become Georgia's first black senator.
Chinese Foreign Ministry spokeswoman Hua Chunying said on Thursday that China hopes the US people could enjoy peace, stability and security as soon as possible, especially amid the grim situation of the COVID-19 pandemic.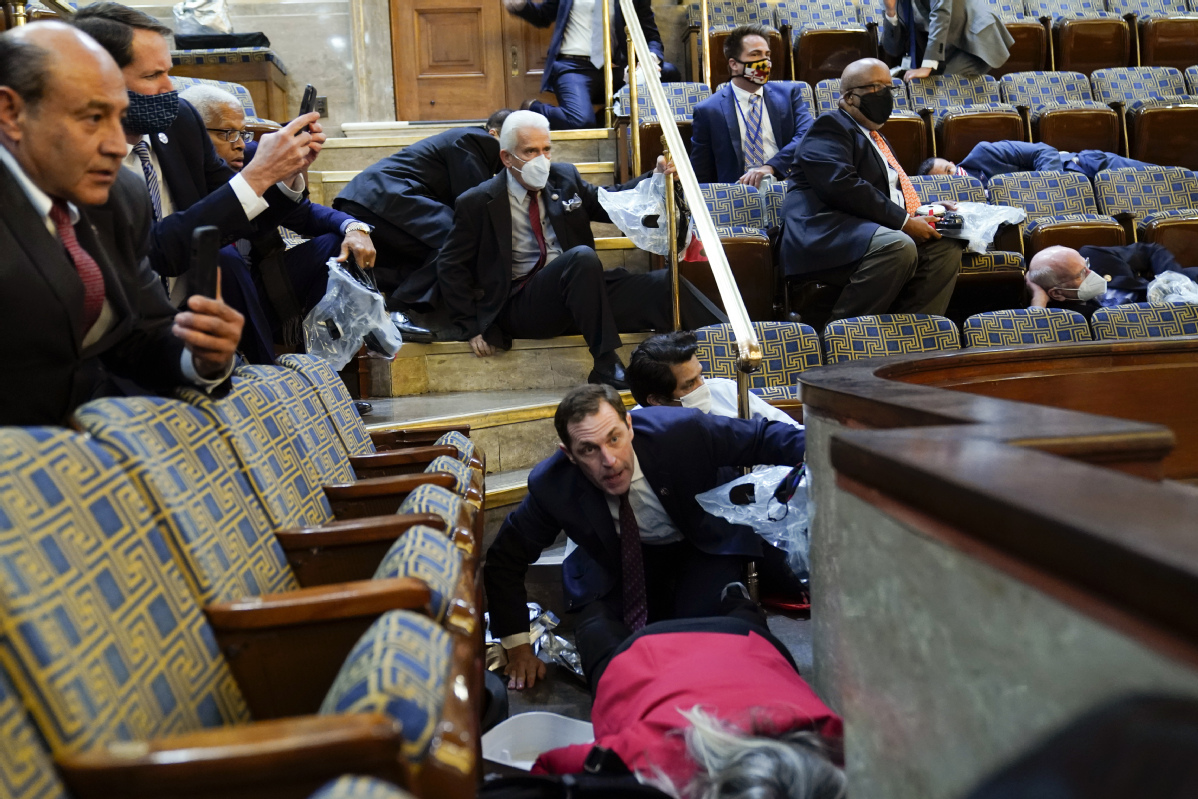 While US mainstream media denounced the protesters at the Capitol as "mobs", they had called violent protesters who broke into Hong Kong's Legislative Council building in July "democratic heroes", saying that the US people were standing with them, Hua noted.
The sharp contrast in the reactions and choice of words and reasons behind it are thought-provoking and worthy of profound reflection, she said.
United Nations spokesman Stephane Dujarric said that UN Secretary-General Antonio Guterres "is saddened by the events at the US Capitol".
"In such circumstances, it is important that political leaders impress on their followers the need to refrain from violence, as well as to respect democratic processes and the rule of law," he added.
Josep Borrell, foreign policy chief of the European Union, noted that in the eyes of the world, "American democracy tonight appears under siege".
Despite Trump's repeated claims of voter fraud affecting the election, numerous federal courts, election officials and his own former attorney general have said there were no problems on a scale that would change the outcome.
In a statement, former president Bill Clinton said the violence at the Capitol resulted from a combination of deliberate disinformation that created distrust in the system and pitted Americans against one another.
"The match was lit by Donald Trump and his most ardent enablers, including many in Congress, to overturn the results of an election he lost," he noted.
Former president George W. Bush said he and his wife, Laura, watched "the scenes of mayhem" in disbelief and dismay.
"It is a sickening and heartbreaking sight. This is how election results are disputed in a banana republic-not our democratic republic," Bush said in a statement.
Xinhua and agencies contributed to this story.