Top 10 Chinese listed companies by market value
Share - WeChat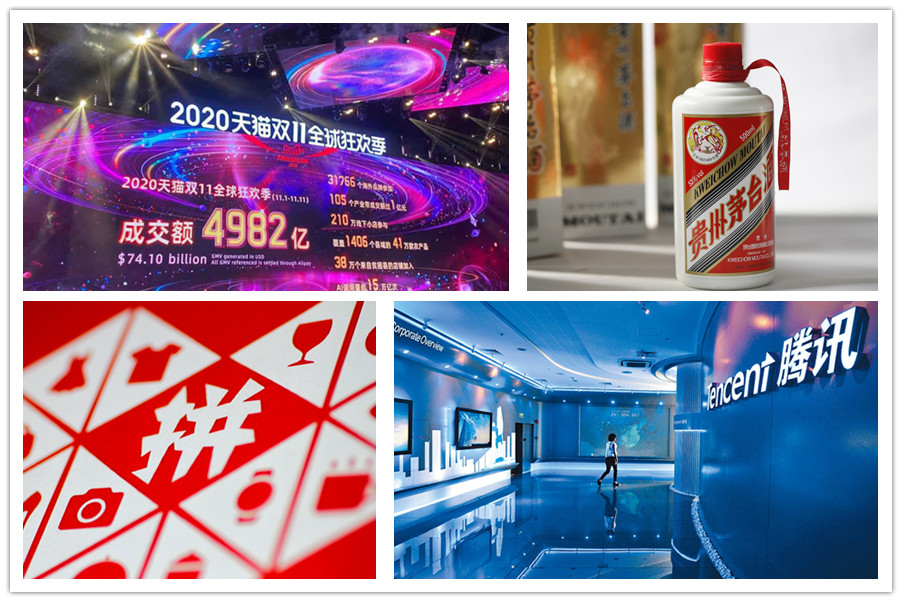 Tencent ranked first on the list of top 500 Chinese companies by market value in 2020, according to a report from the 21st Century Business Herald's official WeChat account.
With a worth of 4.55 trillion yuan ($704.17 billion), Tencent had the highest market value among all Chinese listed companies, followed by Alibaba with a market value of 4.2 trillion yuan.
Replacing the Industrial and Commercial Bank of China, Taiwan Semiconductor Manufacturing Company took third on the list.
Meituan and Pinduoduo also joined the club of companies with market value surpassing 1 trillion yuan.
With a respective increase of 14 and 41 spots, JD.com and Xiaomi are paving their way to the top 20.
Among the top 500 Chinese listed companies, 56 are in the pharmaceutical and biological industry, 50 are in the electronic industry and 40 are in the information technology industry.
As the base of State-owned and internet companies, Beijing is headquarters to 96 companies on the list, and those companies have total market value of 23.21 trillion yuan.
About 78 listed companies in South China's Guangdong province were included on the list by the end of last year, with 14 newcomers compared to the previous year.
Let's take a look at the top 10 Chinese listed companies by market value.