Toying with creativity
Share - WeChat Father builds playthings out of cardboard for daughter, who prefers them to electronic games, and his online videos are attracting a growing audience, Wang Qian reports.
Zhang Shuai has a sense of fun that is being widely appreciated on the internet. When deliverymen bring cardboard boxes to his doorstep, Zhang soon builds them into interactive toys for his daughter Nini, who is 5.
The 32-year-old father from Zhengzhou, Henan province, has made more than 120 toys from waste cardboard in the past three years. His toy-making videos have gone viral on the internet and many netizens comment that it shows an environment-friendly way to spend quality time with children. His Douyin account has garnered nearly 3.4 million followers.
"When other children ask their parents to buy them a toy, my daughter always asks me to make one," Zhang says.
From replicas of household appliances to folklore-based toys and kits, everything, in Zhang's eyes, can have a hard cardboard copy. Even the classic video games, such as Need for Speed, Tetris and Submarine Game Challenge, can be played in the actual world.
"These are toys or games that people born after 1980 had in childhood that are rarely seen today. I want my daughter to see what her father played with as a boy, building a kind of connection between the two generations," Zhang says.
Although slightly different from the original digital version, Zhang's real-life Tetris, a tile-matching video game created by Russian software engineer Alexey Pajitnov in 1984, has also been popular on Twitter. In the footage, Zhang drops handmade tiles into a hole in the top, while Nini takes the pieces from the opening in the bottom and finds slots to fit it on the board. When the entire board is filled, the game is over.
Another homemade toy, cardboard version of Need for Speed, has got more than 1.6 million likes on short video platform Douyin. The screen is made of paper with three lanes with cars and a magnet underneath. In the video, Nini uses a steering wheel to control a metal car to overtake painted cars in its lane with her father rolling the paper.
He also built a maze game, a marble obstacle course, a pool table, a robot WALL-E and many others. His most liked video, a toy bank in the shape of a house, has gained more than 2.7 million likes.
"As people are becoming more obsessed with digital gadgets, there are harmful effects brought by technology, like difficulty in concentration," Zhang says, adding that parents should control their children's screen time.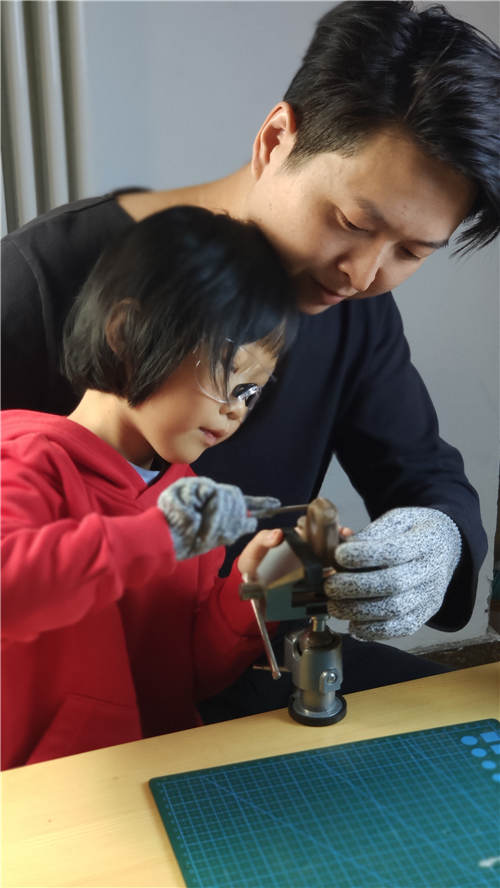 Most Popular