ICBC, WeChat among world's top-10 brands
By WANG MINGJIE in London | China Daily Global | Updated: 2021-01-28 09:22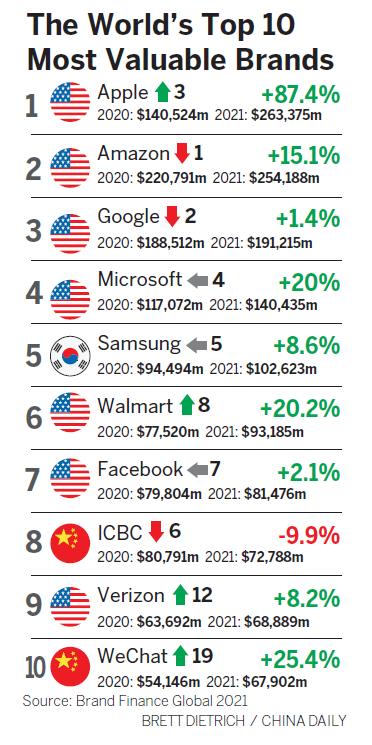 Apple leapfrogs Amazon to reclaim most-valuable status, Google in third
Apple has overtaken Amazon and Google to reclaim the title of world's most-valuable brand, an accolade it has not held since 2016, according to the latest report from the London-based brand valuation consultancy Brand Finance.
The report, which put China's WeChat in the top 10 for the first time, revealed that United States and Chinese brands together account for two-thirds of the world's brand value.
It found 21 of the top 25 most-valuable brands were from either the USA(10) or China (11).
Nine of the top 10 fastest-growing brands were from the same two nations, with four from the US and five from China.
Apple, with a brand value of $263.4 billion, topped the rankings, thanks to its diversification strategy, the report said. Under Tim Cook's leadership, especially during the past five years, the company has focused on developing its growth strategies above and beyond the iPhone - which in 2020 accounted for half of its sales and which accounted for two-thirds in 2015.
The diversification policy has seen the brand expand into digital and subscription services, including iCloud, Apple Podcasts, Apple Music, and Apple TV. On New Year's Day alone, App Store customers spent $540 million on digital goods and services.
ICBC has maintained its position as China's most-valuable brand and ranked seventh in the global elite table, despite a 10 percent drop in brand value, to $72.8 billion.
WeChat, with its brand value enjoying a rapid boost of 25 percent, to $67.9 billion, jumped nine places.
China's homegrown technology company also claimed the title of the world's strongest brand, which included evaluations of marketing, investment, stakeholder equity, and business performance; earning a Brand Strength Index score of 95.4 out of 100.
Alibaba.com, China's e-commerce behemoth, also benefitted from an unprecedented surge in demand for online shopping, as consumers sought new outlets during the pandemic. The retail giant's brand value went up by an eye-watering 108 percent, to $39.2 billion, making it the second-fastest growing brand in the ranking, behind Tesla.
Alibaba subsidiaries Taobao (up 44 percent, to $53.3 billion) and Tmall (up 60 percent, to $49.2 billion) both enjoyed successes, as their online business models provided ease of access and convenience for consumers.
David Haigh, CEO of Brand Finance, said: "Chinese brands have performed exceptionally well this year, amounting to a staggering total brand value of $1.4 trillion. Brands such as WeChat, which has overtaken Ferrari as the strongest brand in the world, and Alibaba.com, which has doubled in brand value, are exemplary of the country's ability to continue innovating and making advancements in technology."
Despite relinquishing its position at the top, second-ranked Amazon still managed to record a healthy 15 percent brand value growth, to $254.2 billion. Amazon is one of the few brands that benefitted considerably from the pandemic and the resulting unprecedented surge in demand for online shopping. During the second quarter and third quarter of 2020, e-commerce platforms experienced their highest revenue-growth since 2016.
Haigh said: "Playing a crucial role in supporting a new economic mode in lockdown, Amazon has found itself at the center of attention more than ever before. With a revenue boost came reputational risks - from questions about the treatment of workers, to accusations of benefitting from the tragedy of the pandemic, to pushback against a global corporation in support of local retailers. Jeff Bezos has a difficult task at hand to steer the Amazon brand through dangerous waters."